What is greyhound racing?
Greyhound racing is one of the oldest animal sports in the world. Greyhound racing is the same as dog racing, greyhound is a dog breed.
The essential of this sport is that the first dog who crosses the finish line wins. The dogs chase a rabbit on a round track it's the a same track like on horse racing.
This sport is very popular in the U.K. and US , but nowadays greyhound racing can be found in Australia, Mexico, Ireland and other countries to.
Why should you be betting on greyhound dogs?
Nowadays betting on horse racing turned into an everyday thing in human life ebony, now together this two amazing sports changed the gambling industry. Now everyone can bet on his favorite dog, and with small amounts of money they can win a lot. It is good to know that every dog has a specific value and before betting on it you need to choose the best one. This is not so simple, maybe everyone of you was once at a betting salon and heard from other players "bet on this dog or bet on Jimmy`s dog is better". Never, but never let you to be influenced by others.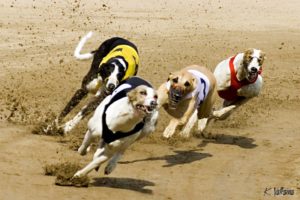 If you want to bet on greyhound dogs first of all you need to be informed about the dogs. You can do this
looking back for the results of a dog, you need to know how many times that greyhound won, and how many times fallen or lost the race. Also it is good to know that greyhound races are less profitable than horse racing's.
The History of Greyhound Racing's
The history says that the first attempt when greyhound dogs were racing was in the year of 1876 in Hendon, UK. Over the time with the advancement of technology the hare or rabbit was put on a mechanical invention which is pulled near the track.
The racing's tracks were oval or circular, for the first time Owen Patrick Smith opened a professional greyhound racing track with stands, where everyone could bet on his favorite dog. So Emeryville in California became the first place with a professional dog-racing track. In the United Kingdom this sport was introduced in 1926 by Charles Munn, American business man. Charles Grandson said some years ago that by the end of the
year 1927 in the U.K. there were opened forty greyhound racing tracks.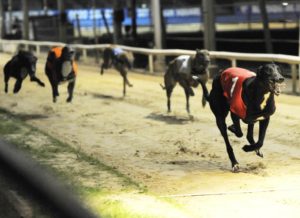 The business was successful through villages and cities, every UK citizen just waited for the race to start to be able to bet on their favorite greyhound. In every town or city where greyhound racing's where taken, they had a big board with the greyhound racing results. On the board they wrote the dogs names with the numbers of races won or loss, and the value of that dog.
Each dog had a certain value, this was written on the board for those people who would like to buy a dog. The price of a dog was very expensive because they were trained dogs.
Betting on Greyhound dogs
Nowadays betting on these dogs can be made from everywhere. Our site now gives the possibility for everyone to bet on his favorite dog for free without any deposit.
You can play this game as much as you want for free, but if you feel lucky than you can try it for real money too, just
by clicking on a banner. If you have a favorite game and you can not find it on 77777games.com than write us on facebook and we will make all possible to play your favorite game for free. Have fun and don't forget gambling is a lifestyle.
Casino
Bonus
Sign Up
Vulkan Vegas Casino
50 Free Spins (10 €/$)
Promo code: deadbook
Get Bonus
Hot Slots
20 Free Spins (€0.20/Spin)
No Deposit Bonus
Get Bonus
Lemon Casino
20 Free Spins - No Deposit Bonus
Get Bonus
Ice Casino
50 Free Spins (€/$ 0.20/SPIN)
Get Bonus