Similar Slots from BF Games 
---
Play  the amazing Ocean Reef slot for free!
Until now everybody was searching for treasure chests on land, from now on our community can play Ocean Reef slot machine for free and look for huge treasures under the sea in this amazing game.
In this game all the action happens in the deep ocean. Ocean Reef let's you discover some rare species of fish along with a Seahorse and an Octopus. These fish symbols looks great, because they have a nice texture and HD graphics.
While playing you can hear the sound of the sea when the waves are stirring. Ocean Reef slots demo version is now available to be played for free, and now it is also a mobile and tablet responsive game. It is a very similar game to Dolphins Pearl that has a similar 15 free spins bonus rounds. To achieve the free spins feature you need to get 3 Pirate Treasure Chest symbols, their position on the reels is indifferent.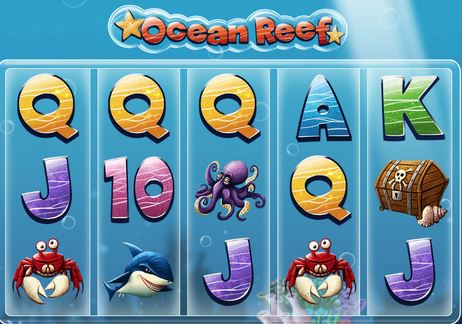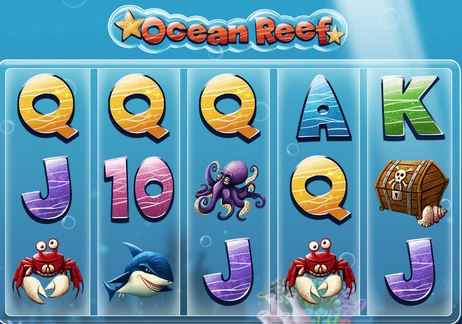 The best part of  the Ocean Reef slots machine is that inside the free spins bonus rounds you can get more and more spins just by getting chest symbols anywhere on the reels. We can confirm that this is one of our most beloved slot machine game where we managed to win a lot of money.
The feature of getting pirate treasure chests inside the free spins rounds is in the favor of the player (Increases the probability of ending up with a high amount of free spins achieved during a single bonus round.) The graphics of Ocean Reef looks amazing, you can feel like you really are in this world surrounded by the under sea life.
---
How to achieve free spins at Ocean Reef
To achieve free spins at this awesome slot machine game you need to get pirate treasure chest symbols. These chests are hiding the 15 free spins. It is good to know which symbols get you the biggest wins at Ocean Reef slots.
We will tell you the secret of this game. There are different symbols as you can see in this pay table attached below.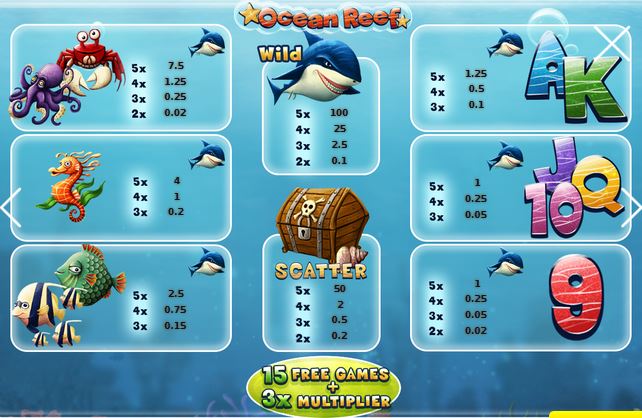 The commonly known symbols that you can find at most slot machines are: 9, 10 , J , Q these usually have the same multiplier and 5 of a kind pays 250 points at ocean reef.
The player can also find the K and Ace symbols. Their values are the same, 5 of a kind  of these symbols can get the gambler 312.5.
The two funny fish, that`s how we call them, because they looks really silly.
One Fish with that big eye and the other one with small eyes looking at you like they want to hypnotize you. Maybe with his hypnotizing fishes we can achieve to win a big amount of money at ocean reef free slot machine.
Also to make our day happier a Seahorse is waiting for us to be ridden.
---
All these nice symbols have well contoured lines and the figures are very well draw. The two brother fish pays 625 points to the player and the Seahorse 1000 points if you get five of a kind.
At ocean reef slots we can find two other symbols that actually look funnier than the fish brothers. It`s an Octopus and the Crab. The crab has the biggest crossed eyes that we ever saw in the history of slot machines.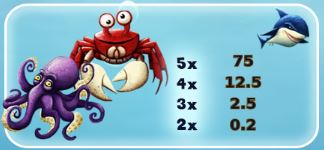 We are glad that we found a nice looking slot machine game that is not just funny, but also can lead us to earn some money.
These two funny guys earn you 1875 points  by getting five of a kind of them on the Ocean Reef spinning reels.
All these symbols forenamed can be compound with  the Shark(Wild symbol). Yes! At ocean reef free slot machine it is possible to combine all symbols with this shark making a winning combination of 2-3-4 or 5 of a kind. Substitutes for all Symbol except the Scatter!
For the happiness of the players, this character can help you get a big winning line. At 5 "Sharkynators" you can get 25000 points. It`s not magic it can be real,  just test this brand new free slot yourself to convince yourself.
---
We left the biggest treasure of all time at the end.
The scatter symbol at free ocean reef is the pirates treasure chests. This symbols can appear everywhere, making the best combination ever that you can get – has the biggest payout multiplier!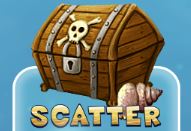 This is the dream of every one of us, opening a treasure box full of money and achieve the biggest trophy win of our life. Our eyes are always focused on the Scatter when we Spin the reels.
Test Ocean Reef for free!
 The underwater world is full with surprise and treasures. Not just with money that someone can take home playing ocean reef slot, but also for that feeling that can occur with you guys while exploring this game.
Test our new slot machine game without any deposit or credit card information, not even a register or download is needed, yet you can still enjoy Ocean Reef on your desktop, tablet and mobile device for free. Event better is the fact that the game has been updated to a new version and you don't have to enable the flash player, this means that you will still be able to enjoy this game when the flash player will be discontinued at the end of 2020!
Casino
Bonus
Sign Up
Vulkan Vegas Casino
50 Free Spins (10 €/$)
Promo code: deadbook
Get Bonus
Hot Slots
20 Free Spins (€0.20/Spin)
No Deposit Bonus
Get Bonus
Lemon Casino
20 Free Spins - No Deposit Bonus
Get Bonus
Ice Casino
50 Free Spins (€/$ 0.20/SPIN)
Get Bonus