Similar Slots from BF Games 
---
Welcome back! 77777 Games presents the newest fruits slot machine arrived to our small town Fruitastic is full of treasures and happiness. Stay with us to learn about the secrets of this great slot machine.
Fruitastic is the newest video slot game from BF company. It can be played also on mobile devices.
History repeats itself! We say this because Fruitastic Slot is a close copy of the old slot machine game Ultra Hot Deluxe. The slot has a lot more to show you so play with us and experience the magic diamonds with surprises.
After all these years of playing free slots on 77777 Games we can say that Fruitastic is between the best slot machines that has 3 reels. Three reels can bring more than 5! Not every time but according to the old gamblers Fruitastic Slots can bring more money with this new feature.
The improvement for this slot are:
Better graphics
Nice sound effects
Awesome background music that can be turn on/off
Diamond Bonus
We want to tell you first about the diamond bonus at Fruitastic free slots. Getting a screen full of these white diamonds, you will have the chance to pick one of them. Under each diamond is hidden a number.
This number shows you the amount of points or real money won.
Playing for free Fruitastic Slot Machine you will have the chance to find diamonds with the value of 500,1000,2000 or even 10 000 points.
---
Symbols and Structure of Fruitastic Slots
This video slot game has just few symbols that we can talk about. There are four types of fruits: orange, watermelon, plum and cherry. These are stacked symbols.
When a player gets a screen full of identical fruits let's say orange at Fruitastic Slots he will get 4000 points, because the winning is doubled.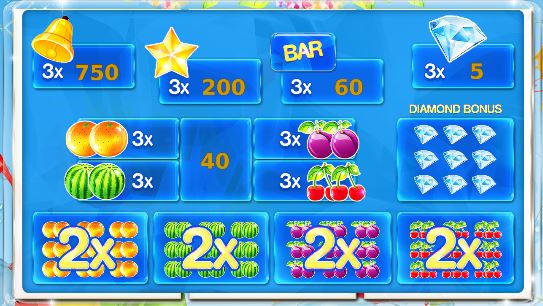 At Fruitastic Slot Machine we can find the popular liberty bell symbol which is one of the most valuable in the hole game. The BAR and the Stars, they play an important role in Fruitastic getting great valuable prizes.
After testing this slot, we can say that with his 3 rows and 3 reel we made a lot of points playing Fruitastic for free. A lot of times get us the diamond bonus winning great amounts, one time the jackpot of 10 000 points.
The slot has an excellent background music. The Fruitastic slot machine is ready to play it for free without any charges. You don`t need to download any additional software to play this slot machine.
For free credits, you can just refresh Fruitastic slots page and you can start gambling from the beginning.
---
Jackpot at Fruitastic Slots
To achieve easily jackpots, first we recommend you to play the slots for free on 77777games.com. Here you can find a huge variety of slots and casino games. You can learn for free the combinations and the techniques how to double at slot machines.
If you think that Fruitastic Slot is the successor of Ultra Hot Deluxe, then don't hesitate to give the game a like or to share it with your friends. Maybe you can help others to find out about Fruitastic and they can enjoy it also for free without any charging.
Feel free to try Fruitastic slot machine on your mobile device. It will work great without having any lag or delay problems. Don`t forget to "Play Hard or Go Home".
Casino
Bonus
Sign Up
Vulkan Vegas Casino
50 Free Spins (10 €/$)
Promo code: deadbook
Get Bonus
Hot Slots
20 Free Spins (€0.20/Spin)
No Deposit Bonus
Get Bonus
Lemon Casino
20 Free Spins - No Deposit Bonus
Get Bonus
Ice Casino
50 Free Spins (€/$ 0.20/SPIN)
Get Bonus