Play Backgammon online worldwide
All about how to play backgammon online – backgammon is not a simple game of luck, strategy is very important in order to won at this game. Otherwise there would be no other explanation why there are professional backgammon players that won consistently. Sure it is essential what the dice shows after you roll them, but on long term strategies are equally important.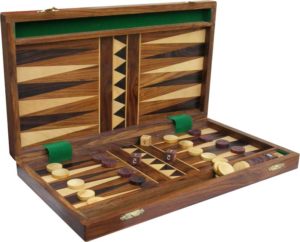 You can play backgammon right here on our site for free without download or registration, and if you feel good enough to go to the next level choose one of our featured online casinos where you can play backgammon for real money and get your deposit bonus to have a head start towards success.
Origin of Backgammon game
Today you can play backgammon online with thousands of people who are located all over the world. This offer is bought to you by online casinos which give you the possibility to play online with fun money just for fun, or even for real money if you consider yourself good enough.
To understand backgammon it is important to learn about the history of the oldest skill game. Backgammon is the oldest game known recorded in the human history. It is widely accepted today that the origin of the game goes back to ancient Mesopotamia. Backgammon has been played using a wooden board, for checkers they used stones and the dice were made of various ancient materials.
Through history backgammon was perceived as a game of the nobles (a game for the upper class). Archeologist have discovered many artifacts that support the popularity of the game among the aristocracy of Rome, Persia and Greece. Most historians believe that the name "Backgammon" comes from two words in English (Bac & gamen) meaning "Back Game".
Englishman Edmond Hoyle was the first, to publish the first set of rules of this game. This helped the game to spread in the European countries. During the same period appeared the variants "Tric-Trac" in French and "Puff" in German. all based on the rules written by Hoyles. The rules remained unchanged until 1931, when they have been reviewed and are what we use today.
Basics of Backgammon
Two players play this game on a board with 24 triangles called points. Triangles are grouped with 6, 4 frames, triangles have alternate colors. The goal of the game is for each player to move their checkers in their field of play and than remove them from the board. The first player to be able to take off all his checkers off the board will be the one who wins the game.
Casino
Bonus
Sign Up
Vulkan Vegas Casino
50 Free Spins (10 €/$)
Promo code: deadbook
Get Bonus
Hot Slots
20 Free Spins (€0.20/Spin)
No Deposit Bonus
Get Bonus
Lemon Casino
20 Free Spins - No Deposit Bonus
Get Bonus
Ice Casino
50 Free Spins (€/$ 0.20/SPIN)
Get Bonus