Enjoy Bingo for free with us
First of all bingo is a game which is played by two or more people. The objective of bingo games is to gather with friends or players and have fun. Bingo is a game that we play not just for fun but also for getting to know with other people and to socialize. In the past there was no facebook or other socializing opportunity that's why people made friends with this famous game bingo.
Also with the appearance of the Internet, Bingo can be played online on casinos. Nowadays you can play online bingo everywhere, it is important to select the best online casino that fits to you.
The rules of bingo games
The rule of this game is really easy, it's not complicated at all. Every player gets a card with different numbers in rows and columns. After this a quiz master spins a globe full with balls. Every ball has a number on it, those numbers are loudly announced. The players mark the numbers if they have it on their tickets, after the ticket is fully completed you need to say bingo.
That's all the rules for this famous game. It is very simple and everyone can learn it in just a few minutes. It is important to mention that like all other games, bingo has several versions. The difference between the versions consist in the number of balls that is played wit.
Difference between local bingo and online bingo
The difference between these two types of bingo consist in the socialization. The main importance of this game I think is to make new friends and to have fun with others. Now online bingo is different, you can not talk to others, you have the possibility to write a message to other players but it's not the same like in local bingo rooms.
Do not forget that bingo is much faster on the internet with 90 balls, the game with breaks can even take about 5 minutes to finish. If you are playing at a local bingo room this takes minimum one hour. At online bingo there are chat rooms were the players can communicate with other players during the game. And can also write to the referee.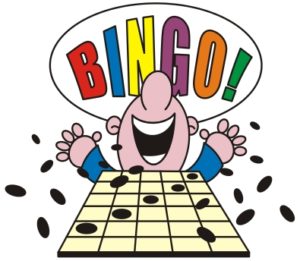 Recently the team bingo is spreading, this means that the team members individual results are gathered with other players results. Every week or every month the team with the best value is awarded with big prizes. In the past team bingo was played between friends, they bought more tickets and after the win they shared the prize between themselves.
Types of Bingo
There are different types of bingo. It can be played with 30,75,80 or 90 balls.
The 30 ball bingo is the newest one played on the internet, it's also the fastest one. Every player gets a ticket with a 3×3 squares, and needs to mark 9 numbers.
This type of bingo is also known as speed bingo. The people like more speed bingo because it has a higher chance to win a jackpot than at 75 or 90 balls bingo, because here you need just 9 numbers to win.
Nowadays the popularity of the bingo play has increased which attracted more new people because of the jackpots amount.
Casino
Bonus
Sign Up
Vulkan Vegas Casino
50 Free Spins (10 €/$)
Promo code: deadbook
Get Bonus
Hot Slots
20 Free Spins (€0.20/Spin)
No Deposit Bonus
Get Bonus
Lemon Casino
20 Free Spins - No Deposit Bonus
Get Bonus
Ice Casino
50 Free Spins (€/$ 0.20/SPIN)
Get Bonus