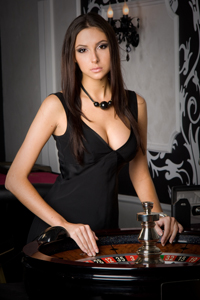 One of the oldest and most famous casino game is live roulette. The dealer spins the roulette wheel and drops the roulette ball. The object of the game is that the player figures out on which of the 37 numbers the ball will stop.
To make a bet during live roulette click on the chip value that you want to bet and then click on the field where you want to make your bet. Each click increases the number of chips.
To remove a chip, click the Delete button or the Delete Last button. By clicking on Clear all bets you can delete all your bets. All bets on live roulette must be made before the time counter expires, because in that moment all bets will be closed and the live dealer win spin the roulette and drop the ball.
Once the ball stops, the dealer announces the winning number and will automatically settle all bets. After this the counter begins to count down to let you know when the next game will begin.
---
Live Roulette Description
In live roulette you can find at the bottom of the screen additional options that can enhance the gaming experience.
The chat button opens the chat window that will allow you to chat with the live dealer or even other players playing at the same roulette table. Through this option you can reach the Pit boss ( the supervisor of the current game), in case that you need one.
The game log shows you the results of the previous spins.
View allow you to enlarge different parts of the table, that you wish to zoom on to observe it better.
By default all this options during live roulette online are set off. As soon as you turn them on, you can place them accordingly to your needs. Please note that not all live roulette online casinos listed have the same options, but they are all similar, so the basic instructions should be enough for you to know all you need about the game.