Free Video Poker game Jacks Or Better
There is no doubt that Jacks or Better is one of the most popular and appreciated video poker game that ever existed! It is ideal for beginner gamblers, specially for this reason the game can be found in all the casinos worldwide.
The game itself it's simple, a combination of two Jacks minimum is required to get a winning hand, this is why the game is called "Jacks or Better". Gamblers who like poker games, but have problem bluffing should try this game because they play against the computer not real people.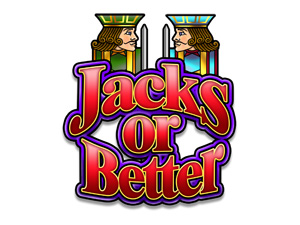 ---
Rules of the video poker game Jacks or Better
Video poker Jacks or Better has the same winning combinations as the traditional poker game. You can find the combination in ascending order here:
• Pair consists of at least two Jacks
• Two pairs: 2 pairs of cards with the same value
• Three of a kind
• Straight: consists of five consecutive cards
• Flush: contains five cards of the same color
• Full House: consisting of three of a kind and one pair
• Four of a Kind: consists of four cards with the same value
• Straight Flush: any five cards of the same color consecutive
• Royal Flush: consists of Ace, King, Queen Jack and Ten of the same color
---
Game mode
The game begins with choosing your bet. You can bet up to 5 coins per game. To do this you must press the BET button to raise the number of coins per bet, or just use the Bet Max button to bet 5 coins (the max coins per bet). Note that you can also change the coins value in the right bottom of the game. Before every hand you have the possibility to change your bet. Credits field displays the amount of money available for the player.
Casino
Bonus
Sign Up
Vulkan Vegas Casino
50 Free Spins (10 €/$)
Promo code: deadbook
Get Bonus
Hot Slots
20 Free Spins (€0.20/Spin)
No Deposit Bonus
Get Bonus
Lemon Casino
20 Free Spins - No Deposit Bonus
Get Bonus
Ice Casino
50 Free Spins (€/$ 0.20/SPIN)
Get Bonus